February 1st, 2015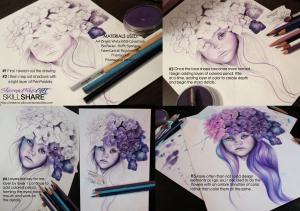 With my recent feature in Colored Pencil Magazine-Winter- 2015 Student Digest I have been recieving many questions regarding my techniques and what I use. One question I'm asked the most. "Do you use colored pencils on top of PanPastels"? the answer is Yes....here is a small SkillShare of the process.

Sheena Pike Art
FEATURED ARTIST: COLORED PENCIL STUDENT DIGEST
http://www.magcloud.com/browse/issue/858966

© Sheena Pike Art
Pixie Blossoms Series
"Hydrangea"
SkillSHARE
PanPastel - Faber Castell Polychromos - Prismacolor Pencils

#sheenapikeart #panpastels #panpastel #colouredpencil #Prismacolor #wip #workinprogress #artofdrawingg #worldofpencils #selftaughtartist #ladyartists #popsurrealism #hydrangea #coloredpencilmagazine #featuredArtist #coloredpencil #fabercastell #arttalent #artskill

All artwork on this Page is the original artwork of Sheena Pike. ©Sheena Pike All Rights Reserved. The work in this Gallery is protected by Canadian and International Copyright laws.

March 3rd, 2014
Lost in thought…lost in the artistic chaos within my head. My hands never quite keep up to my mind…it's endless unforgiving torture…forever captured and surrounded by my visions I am a prisoner with a pencil in hand…..then I set myself free.




December 2nd, 2012
I have wide range of music that I like....here are just a few.....*Step into my Art Music Lounge*